Thoughts on my Predator movie idea and cast?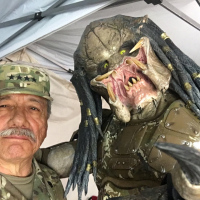 JohnTheEmissary
Elite☠️☠️☠️
What do you guys think of my Predator movie idea? I think it's a good movie that with the right people, like my choice for director and writer would Guillermo Del Toro and executive producer and co-writer would be Steven Spielberg. The plot would based off the plot of the AVP arcade game and would have human Predator interactions based off the Predator : Fire and Stone comics. The cast would be star Vin Diesel, Dwayne Johnson, Michelle Rodriguez, and Tyrese Gibson. The Predator Warrior and Hunter would be played Kyle Strauts and Brian A. Prince. It would have the biggest budget for a Predator movie, sitting at $100-$130 million.
@Xenomorph
what do you think of this? And do you guys think this could be a great way to bring fun back the franchise?